Flavio Zappi – former Pro Cyclist
A few days ago, I was doing some interval training around Boars Hill when I bumped into Flavio Zappi, Flavio happens to be a former wearer of Green Jersey in the Giro D'Italia and top 12 finisher of Milan San Remo. We rode up and down Boars hill a few times and then Flavio kindly invited me to his sandwich bar (Harveys) in Gloucester Green, Oxford.
As I arrive Flavio is just helping to formulate a training plan for a young rider. For next year, Flavio has organised sponsorship of some top of the range Milani bikes for the local Oxford University cycling club. You can tell the genuine enthusiasm Flavio has for cycling and encouraging young road racers in particular.
It was a fascinating 30 minutes, and there's enough material for quite a few posts. In the first section, I will mention Flavio's experience has a former professional cyclist. Tomorrow, I will post about coming back to cycling after a 25 year lay off.
Q. "What was life as pro-cyclist like?"
"It was very exciting at the beginning, then it got between boredom and frustration later. The excitement was the crowd, the caravan, the attention. The fact you feel like you are somebody. Gradually you see the downside, which is you are a product, you can be left without a job any moment, then the drugs. Boredom because it is becoming such a routine. You are becoming part of a job rather than a competition to win.
Q. "Were you a domestique when you started?"
"In the beginning I wasn't. I had the freedom to do what I wanted."
Asking about his team, Flavio mentioned "My manager, was someone who had a bottle of wine by his car door. He was very popular but was not a coach. He was good at getting sponsors and paying people. Training was very basic. There was no intervals. We would get together at 9am and all the professionals in the area would meet and we would ride for 4,5,6 hours.
A Young Flavio Zappi riding for Hoonved Bottecchia (81-83)
Q. What were your highlights as a procyclist?
In the Giro del Trentino I was leader for 2 days but lost in the last day – A time trial. I was a professional, but, nobody told me how to ride a time trial. I had never done a time trial in my life. The only advice in the time trial was "You start hard, you go harder, and you finish hardest. So you can imagine. I was 18.
That year we went to the Giro D'Italia where our team won the team trial. It was like going in a breakaway.  We beat Moser's team – He wasn't very happy. Almost got white jersey. But, another rider on our team had it so I didn't compete for it.
Couple of years later, highlight I got green jersey in the Giro D'Italia for 2 weeks, but lost it on last day to a Mr Laurent Fignon (1984) (result). He passed all the peleton and got 50 points.  Also that year I was Top 12 Milan San Remo in 1984 (result)
Q. Could you tell me About Riding Paris Roubaix?
"Paris Roubaix is an amazing race. A combination of skills, luck, endurance, speed. You name it – It's beautiful."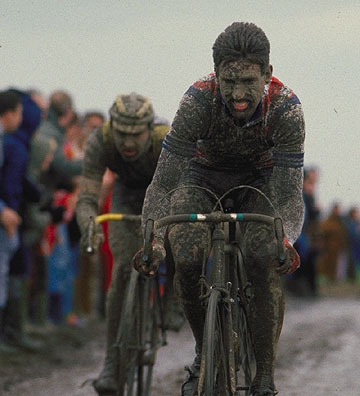 "For 100km you do nothing, just go along with the pack at under 50kmph. But, then all of a sudden, you are 10km to first major piece of cobbles. Then it becomes like last 10km of a race. I was lucky enough to enter into 5th position. I used my sprinting skills to get to the front. I sprinted for the corner of the road. – Madness, but, I knew how important it was. I came out in the top 5 and ended up in a break with Greg Lemond, Frank Vanderaerden, Eddy Planckaert and 6 of us had a minute and a half over the peloton. – or what was left of the peloton. I remember that day there were so many crashes. I remember a backwheel coming up before me and then pushing it out of my way. You got to imagine the road is like a bridge, to go fastest you have to be on the top. But, your wheel can go anytime. I crashed 3 times. I got took down by Sean Kelly's team car. I wouldn't have done much anyway I was too tired. That year I finished with Steven Roche. I beat him in the sprint. He wasn't very happy because for the last 20km I was on his wheel."
Beautiful, Beautiful. The cheer when you get into the velodrome. I would compare it to a cheer at the top of a mountain passes. The loudness of these people is amazing and the volume, they enter your veins so badly, you don't feel anything. you don't feel the tiredness, you don't feel the fatigue. It's amazing. Of course, between the bits of cobbles you've got the normal road with sidewind, and here you die as well. You got no option. It's really hard."
The day before, we rode a quarter of the race. We told by some of teammates you must never hold the underneath of your handlebars, no rings; otherwise you get problems with your knuckles.
Of course we forgot. I remember one team mate who ended up with blisters, even just riding a quarter of the race the day before."
Q. Why Did you Retire from cycling?
"some private situation with family. and the same reason is the drug scheme.
One of my friend used to ride with me, part of a very famous team. We were riding together because we live in the same area. He was told to take steroids as part of the training scheme. So, you can imagine what the team leader was taking. I stopped because of the frustration.
One incident I never forget. After a race I went for drugs test. I went to the dope control and I had a doctor watch me give a sample, while another guy, who was leading the race, went to toilet on his own. I never forget that. This kind of things kill the morale of a young cyclist. especially someone who is 20
Q. Do you think it is better now?
I thought so, until I got disappointed badly by Riccardo Ricco. I really, really, swear, I really didn't talk to anyone for a day when Ricco tested positive. It was so awful for me.
Q. Does it give you any hope they are catching people?
It's nice to know that this is better now. But, it seems like to me anytime you find a way to catch them, they find a way to stay ahead. So it was a very bad culture. It was in the blood even when I was an amateur, seeing all these things going on. It was missing that kind of purity. I found that purity when I was in the states racing for a few months. I also found that purity racing here. I've been told there is no real problem here. Though there should be more testing."
As the interview was coming to an end, another young cyclist, enters the bar. Hetti tells of breaking her chain on a freshers ride 10 miles from Oxford. She was thinking of hitch hiking back, but, Flavio insisted on pushing her all the way back to Oxford!
It feels like Harveys in Oxford is becoming a great place for Oxford cyclists to meet. I certainly left with lots of enthusiasm for the sport of cycling. Did I even make promises to do some road races and not just time trials next year ?
Notes:
Will be publishing another section from this interview tomorrow on – Coming back to cycling after a 25 year lay off.
I recorded our interview with a mic and tried to write down the words. But, sometimes it was a little difficult to catch all the words, especially names in Italian. In some places it may not be Flavio's exact words but I tried to convey the meaning.
Flavio Zappi's Teams
1981 – 1983 :Hoonved – Bottecchia (Italy)
1983 – 84 Metauro Mobili – Pinarello (Italy)
1985: Murella – Rossin (Italy)
1986: Veloforma (Italy)
Other Posts